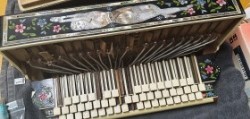 Picture above left to right are: Kevin Friedrich, Robin Floyd, Helmi Harrington and Tracy Gibbens.

A World of Accordions Museum (AWAM) curator Helmi Harrington, Ph. D., presented a seminar and course teaching Antique Accordion Restoration at the renowned A World of Accordions Museum in Superior, Wisconsin.

The week long course, one of several in the series, focused on reeds with topics and practical work assignments including identifying dislodged reeds (a common occurrence in antique instruments), removing, cleaning and treating all the reeds, dealing with rust and age related issues, sequencing according to keyboard configuration, cleaning and prepping the reed blocks, reed leather work and finally waxing the reeds back into place. In this seminar, each topic's complexities paid particular focus to how it applied to antique instruments.

See pictures of the work at: 2021Course

Participants included accordionist and CIA Ambassador and curator of the Accordion Gems Exhibition at the Dargaville Museum in New Zealand Kevin Friedrich and local Symphony Conductor, musician and accordionist Tracey Gibbens. Additional assistance was provided by Museum volunteer Robin Floyd.

During the timeframe of the weeklong course, several of the AWAM Board of Directors met with the Mayor of Superior, Jim Paine. The Mayor is an enthusiastic supporter of his community and has been proactive in recognizing the importance and uniqueness of A World of Accordions Museum in Superior. The Mayor has invited A World of Accordions Museum to display several instruments at the City Hall offices to create awareness of the 2,000 instruments housed in the adjacent World of Accordions Museum. The Mayor was excited to hear that the Museum was the recent recipient of a substantial donation of instruments (350) from a private Washington DC and Paris based collector Alain Papineau. A preliminary display of instruments from these holdings is on display in the Special Exhibits area at the Museum.

Future classes in the series pertaining to antique accordions will include Tuning, Bellows Work, Bass Mechanics and general aesthetics and restoration. For more information please visit www.worldofaccordions.org

Picture below left to right are: Rod Dingman, Roger Schmitz, Kevin Friedrich, Helmi Harrington, Mayor Paine and Tracey Gibbens.