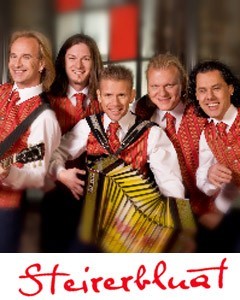 Nach dem grandiosen Erfolg des digitalen Talente-Castings "Music-and-Future" präsentiert sich Steirerbluat seit September in neuer Formation und geht neue musikalische Wege! Mit einer Neuinterpretation des rockigen Schlagers garantieren die fünf mitreißenden Vollblut Musiker eine fulminante LIVE-Show von A-Z.

Allen voran Mr. Steirerbluat Christian Hütter, Frontmann, eine atemberaubende Erscheinung mit unverkennbarer Stimme und einer gehörigen Portion Sexappeal, auf den die Frauenwelt schon lange warten musste, weil sein Gefühl Herzen höher schlagen lässt
Michael Eibinger, "Groovedoctor" für Bass und Backgroundgesang, einer der authentischsten und virtuosesten Bassisten, den die heimische Bühne kennt, ein leidenschaftlicher Musiker vom Himmel bis zur Hölle

Mike Hackl, eine imposante Persönlichkeit, ein Mann, der mit großer Fingerfertigkeit seine "Amelie, Paula und Lisl" beherrscht, ein stimmgewaltiger Rocker und ein Ausnahmetalent für Chöre

Flo Daxner, Keyboarder, Akkordeonist, Sänger, Komponist, Produzent, ein bekannter Haudegen in der Branche, eine erfrischende und mulitalentierte Mischung, die Auge und Ohr besticht

Harry FRIEDL, Schlagerzeuger & Backgroundsänger, ein außergewöhnlicher Rhythmiker, der seine Sticks schneller als seinen Schatten bewegt, ein leidenschaftlicher "Keeper of the drums", ein ambitioniertes und hochtalentiertes Individuum

Gemeinsam sind sie Steirerbluat und stürmen "volle Pulle" die Bühnen. Sie beherrschen die Kunst der Begeisterung und lassen Generationen näher zusammenrücken.

Steirerbluat ist ein echter Meilenstein für rockigen Schlager, der LIVE, MODERN & COOL interpretiert wird. Wo immer Steirerbluat zu Instrumenten und Mikrofonen greift, tanzen, singen und feiern die Menschen auf dieser Erde.

NEUES ALBUM - EVT Jänner 2011
Herausragend wird das neue Album, eine moderne Produktion mit auffälligem Chorgesang und auf den Leib geschriebenen Texten.

Sie sind am:
Samstag 6 November um 20 h zum Bockbieranstich der Sportunion Kaindorf Region Hartberg
Erherzog-Johann-Halle in Tiefenbach bei Kaindorf +43 (0) 33 34 / 22 25 – 0

Donnerstag 18. November um 21 h Disco Gletscherspalte Vorderlanersbach 268, 6293 Tux www.dj-mox.at

Freitag, 19. November um 19.30 h Benefiz - Galanacht der Schlager-und Volksmusik Koralmhalle in Deutschlandsberg, Frauentaler Straße 48, 8530 Deutschlandsberg (Interpreten des Abends: Luttenberger-Klug, Die jungen Zillertaler, Die Grafen, Die Aufsteiger, Die Oberkreiner aus Begunje,Die Krochledern, Jörg Wolf, Nathalie Holzner und Steirerbluat.Moderation Bernd Pratter vom ORF).