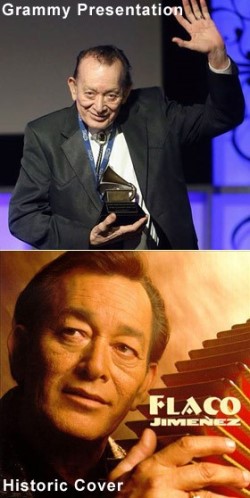 Texas-based Flaco Jimenez has this week been presented with a Grammy Lifetime Achievement Award in a ceremony at the Wilshire Ebel Theater in Los Angeles. Lifetime Awards also went to Jane Fonda, George Harrison, the Bee Gees, Buddy Guy, the Louvin Brothers and others.

His daughter, Raquel Fernandez, and her husband, Javier, and sons Leonard Jimenez Jr. and David Jimenez, with his wife, Lisa, accompanied Flaco to the ceremony on Saturday February 7th.

"From the moment we arrived, you could feel the excitement in the air," said Raquel. "I could see the happiness in my dad's eyes." The happiest moment, she said, was hearing her father's named called. "It was a very humble speech," she added, "as he was mentioning and representing San Antonio and thanking all his fans and also thanking the Tejano and conjunto industry. We are extremely proud of him".

Flaco Jimenez (born 1939) is to Tex-Mex music what Clifton Chenier was to Zydeco or Jimmy Shand was to Scottish dance music. Tex-Mex (aka Tejano, Conjunto or Norteno) is the accordion-driven folk music of the working class Americans of Mexican origin living in Texas.

Flaco and his accordionist brother Santiago (born 1944), the sons of accordionist and songwriter Santiago Jimenez (1913-84), were born into the Tex-Mex style, and both grew up knowing the tunes and songs of this Spanish-American rooted style.

Flaco and Santiago took up the diatonic button accordion early in life, and though Santiago has enjoyed a highly successful professional career in his own right, it was Flaco who became the genre's best-known and most commercially successful performer worldwide.