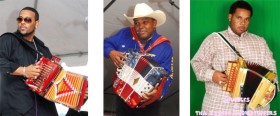 14/15 March 2010 - Solo Zydeco Productions has been producing cultural music festivals since 1997. Beginning with the Liberty County Zydeo and Crawfish festival in Liberty, TX.

In 1998 Solo Zydeco Productions moved to Humble, TX and began Zydecopalooza! That festival ran for three years along with the Clifton Chenier Hall of Fame Zydeco music awards festival.

Since then, Solo Zydeco Productions has grown, now producing three major festivals including The Solo Zydeco Music festival, The Soul and Blues Festival and the Festival de la Cosecha.

The 2010 Solo Zydeco Music festival is scheduled to take place at the beautiful Humble Civic Center in Humble, Texas.
Participating artists:
Jeffery Broussard & The Creole Cowboys features the accordion mastery and soulful vocals of front man Jeffery Broussard, from the legendary band, Zydeco Force. The band delivers great, pack-the-floor renditions of Creole classics as well as their own brand of contemporary Zydeco. Early Creole music, as played by legends Canray Fontenot on fiddle and Jeffery's father, accordion player Delton Broussard, is experiencing a well-deserved resurgence of interest in Louisiana today.

Jeffery Broussard & The Creole Cowboys are taking the next generation's perspective of this music and presenting it with contemporary flair and expertise. Jeffery Broussard & The Creole Cowboys create incredible music and outstanding performances, cultivating and inspiring new generations of Creole zydeco fans. Photo: middle/middle

Snuggles, please check out his Web site at http://www.bigsqueezeproductions.com/ (photo middle/right)

Brad Randell (and the Zydeco Ballers) was born in Lawtell, LA. Brad was not one for zydeco music. He then mastered playing the accordion at the age of 15. At the age of 17 after graduating high school, Brad then realized it was time to start his own band. Brad then formed his band (Brad Randell & The Zydeco Ballers) they were then and now very hot at trail rides. People say he is the "Crunk" man in zydeco. Brad adds his own unique sound with the Ballers, his band entertains as well as any other band in the world. His first recording, Move That Thang, was released by Bad Weather Records in July of 1998. (Photo bottom/right)

Chris Ardoin - The name Ardoin has been "legend" within the Creole/Cajun music community for over a century. Amede and Alphonse "Boi Sec" Ardoin are two Creole musicians whose music influenced many, if not all, Creole/Cajun artist's music heard today. Chris Ardoin, the next generation of many Ardoin musicians, has his own unique sound that has dancers and music lovers craving him, packing Southwest Louisiana and Southeast Texas clubs, churches, dance halls, trailrides, and festivals. He blends the traditional Creole music with r&b, rock, jazz, blues, country, and gospel. Chris was born and raised in Lake Charles, Louisiana where he still resides today and attends McNeese St. University. He started playing the accordion at the young age of four and by the age of nine he had already played Carnegie Hall in New York. And by fourteen he had performed for over 500,000 people at the Monument in Washington D.C. Though he is only in his mid twenties, this 5′11″, 205lb man is a well seasoned and respected musician in all genres of music.

For more information about Chris Ardoin and NuStep, please visit their Web site at http://www.chrisardoin.com/. (Photo middle/left)

Lil' Nate and the Zydeco Big Timers - With the release of Zydeco Ballin', Nathan Williams Jr.'s first CD, the Williams family joins the other great Zydeco dynasties: the Ardoin, Broussard, Carrier, Chavis, Chenier, Delafose, Frank families that have passed on a rich musical legacy to a new generation. Lil' Nathan's father is the leader of Nathan and the Zydeco Cha Chas, one of the top Zydeco bands touring across the country. His uncle, Sid Williams, who is serving as manager of his nephew's band, is owner of El Sid Os in Lafayette, one of the principal venues for Zydeco music, a club where Buckwheat Zydeco used to perform regularly and where he recorded his last live album.
(photo bottom/middle/left)

One of the hottest up and coming Zydeco bands in the area, The Legendz bring energy and excitement everywhere they perform with their crunk up-tempo and grooving Zydeco music, with a taste of R&B, rap, jazz, rock and country. So get dressed and get ready for the show and don't forget your towel, cause you're guaranteed to sweat.


Marcus and Da Zydeco Legends - This dynamic band is comprised of six of the most talented musicians: Marcus "Popsicleman" Ardoin-Accordionist, lead vocalists, song writer and producer, Mike "Mikeo" Maltie- Lead and Rythem guitar ,vocalist and song writter, Mitch "Scrappy Doo" Maltie- Drummer, Vocalist, Wilford "Poppe" Sypion- Rubboard and Vocalist, Mike V. "Choir Boi" Chaney- Key board, vocalist, and
producer, Cedric " Rosi" Powell- Bass guitar.
For more information about Marcus Ardoin and Da Zydeco Legends, please visit their Web site at http://legendz4life.com/ (photo bottom/far left)

Brian Jack was born August 10, 1979 to Eugene and Geneva Jack. At an early age he discovered his love for music. While watching his uncle's Zydeco band, he realized that was the style of music he wanted to play. At 13 years old Brian mowed lawns and recycled cans to help save for his first lessons. Returning to Texas after the second summer his music career would shift into first gear. He joined his uncle's band and performed with it for a year. As time passed, Brian found love for the accordion. He bought his first at fifteen and in three months he was playing the instrument for his first band.

For more information about Brian Jack and the Zydeco Gamblers, please visit their Web site at http://brianjack.net! (photo bottom/middle/right)
and many others.....for further information http://solomusicfest.com
online translations!