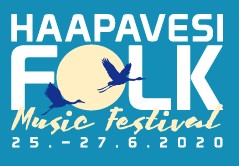 The next Haapavesi music festival will be held in 2021

It was decided to cancel the Haapavesi Folk Music Festival next summer due to the current coronavirus situation. According to the Regional State Administrative Agency, estimates of the worst phase of the coronavirus epidemic in northern Finland have been postponed to midsummer. Based on current measures and containment data, the epidemic will continue in Northern Ostrobothnia and Kainuu until autumn. On this basis, the Haapavesi Folk ry association, which organizes the festival, said that organizing the festival next summer is not safe for the public, artists, volunteers and other partners and has decided to cancel the event.

"Haapavesi Folk wants to be a responsible event organizer. In a situation where the spread of coronavirus is still possible, there are too many risks for the event to take place, "said Tero Palo, president of Haapavesi Folk ry. "Our activities are now focused on planning the 2021 festival and the possibility of organizing small events in the fall, if the pandemic has calmed down since then. A warm thank you to all partners in the face of a difficult situation. "

The Haapavesi Folk Music Festival is one of the most significant folk music events in Finland, which has been held continuously every year since 1989. The next festival will be held from 1 to 3 July 2021.

Tickets purchased for the 2020 festival will be valid also for the 2021 festival. It is also possible to get a refund for the money paid for tickets, with the exception of delivery and management costs, according to the following instructions.
Tickets purchased from the ticket will be returned on June 30th. from the form www.tiketti.fi/palautalippuja, which can be found on the tiketti.fi website. Tickets can also be sent together with the IBAN account number and contact information at: Tiketti Oy, Urho Kekkosen katu 4-6, 00100 Helsinki.

Tickets purchased from Café Häggman can be shipped on June 30th. by contacting the Haapavesi Folk ry office with contact information and iban account number at: Haapavesi Folk ry, Teknotalo 1 B, 86600 Haapavesi.

The ticket office will contact those who purchased a ticket through the ticket office or Ticketmaster.