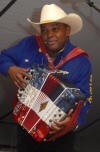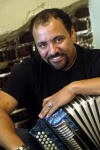 Michael Arnone's 21st Annual Crawfish Fest June 4-6 in Augusta, NJ will be held on the Sussex County Fairgrounds in Augusta, NJ from June 4-6. What started as a small crawfish boil for 70 people homesick for boiled crawfish in 1989, has turned into Michael Arnone's 21st Annual Crawfish Fest. Featuring the best Music and Food that Louisiana and New Orleans has to offer. Cajun, Zydeco, Delta Blues, New Orleans R&B, Brass, Gospel and Jazz on 4 Stages. The festival celebrates the sounds and taste of New Orleans.

Friday evening entertainment for the Campers and King Crawfish Krewe on the Jaeger Pavilion Stage features Grammy Winner Terrance Simien and The Zydeco Experience, The Redstick Ramblers, Honey Island Swamp Band, Jeffery Broussard and The Creole Cowboys along with Paul Sanchez & the Rolling Road Show.

Saturday night entertainment features The Dirty Dozen Brass Band,Honey Island Swamp Band, Amanda Shaw,George Porter Jr. and the Runnin' Pardners,Taj Mahal, Anders Osborne, Stanton Moore. The Sunday lineup includes Marcia Ball,Railroad Earth, Kenny Neal,The Iguanas, and Galactic.

The Crawfish Fest features a variety of authentic New Orleans fare including boiled crawfish with corn and potatoes, chicken & sausage jambalaya, grilled alligator sausage, Shrimp Creole, red beans & rice with pork sausage, catfish, crawfish, oyster, shrimp Couchon de Lait, hot sausage Po-Boys, crawfish pie, crawfish bread, Crawfish Ettoufee and raw oysters. Festival enthusiasts, who prefer a more traditional menu, may choose from grilled Portabella mushroom sandwiches, vegetarian Red Beans, burgers, hot dogs, ice cream, fruit cups, sno-balls, beignets and other desserts. Four stages (three of which are under cover) will feature 24 Bands playing some of New Orleans and Louisiana's best Funk, New Orleans R&B, Delta Blues, Brass, Cajun and Zydeco. Children will be entertained at the Kids Stage by Polka Dot and Summer Rae McLaughlan.

Among the groups which feature the accordion are:
Terrance Simien & The Zydeco Experience-Grammy Winner Terrance Simien is blessed with an extraordinary talent that expresses the deepest human emotions through the original instrument: The Voice. His eclectic fusion of Zydeco takes you on a multicultural musical tour of the world. Incorporating diverse music styles he creates a hypnotic blend of Zydeco-roots-New Orleans funk-reggae-flavored-Afro-Caribbean-world music that will force you out of your seat and onto the dance floor. He has found a way to express himself as a relevant and evolving artist who remains reverent to his roots and musical legacy. His live performances have garnered him a level of international success and his fully engaged audiences around the globe have become more Zydeco Experienced than ever before!

Jeffery Broussard & The Creole Cowboys features the accordion mastery and soulful vocals of front man Jeffery Broussard, from the legendary band, Zydeco Force. The band delivers great, pack-the-floor renditions of Creole classics as well as their own brand of contemporary Zydeco. Early Creole music, as played by legends Canray Fontenot on fiddle and Jeffery's father, accordion player Delton Broussard, is experiencing a well-deserved resurgence of interest in Louisiana today.

Mail-order tickets began on March 1st, 2010. You can purchase tickets at the Fairgrounds Box Office beginning on Tuesday, June 1st, 2010.Adult Tickets purchased on the day of show on Saturday or Sunday will be $40.00 per day.

A guaranteed great time for all! For more information: Michael@crawfishfest.com

Online translation !