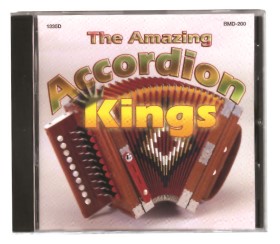 online translation!
The photo above is of Gloria Jean Cantu (one of this year's contestants), John Ramirez (Big Squeeze 2008 winner) and Heri Rodriguez (Big Squeeze 2009 winner). Photos by David Dodd.

Texas Folklife's Big Squeeze Accordion Contest '09 winner was selected and announced at the 20th annual Accordion Kings & Queens concert in Houston on June 6 before an audience of over 5,000 people.

The winner, Heriberto Rodriguez, 16 years old, was selected from a very talented group of young players: Gloria Jean Cantu (16) from San Benito who was the first female finalist in the history of the contest; Anthony Ortiz Jr. (16) from Austin who recently received a resolution from the Texas House of Representatives and played in the Capitol Rotunda and Jorge Vasquez (25) from Houston.

It was a fabulous night with such a large crowd and all players dazzled the public with their performances. . The judges were: Arlyn Visentin, president of the Houston Accordion Association; Joey Guerra, Houston Chronicle music critic; Roger Wood, writer; Chris Longwood of Sugarhill Studios; music legends Santiago Jimenez Jr. and Sunny Sauceda; and the evening's host, Joe Nick Patoski, popular Texas journalist.

Performers for the evening were: Tejano greats Sunny Sauceda and Santiago Jimenez, Jr.; Zydeco stars Cedryl Ballou and The Zydeco Trendsetters and Lady "D" and the Zydeco Tornadoes, and Czech polka specialists Mark Halata and Texavia.

At the Accordion Kings & Queens festival, each finalist performed two songs backed by Houston's hometown band, Grammy and Tejano Music Award nominee, Avizo. An esteemed panel of judges selected the winner based on song interpretation, technical skill, originality, execution, and stage presence.

The Grand Prize Winner, Heri Rodriguez, received a prize package valued at $7,000, including an all expense paid trip to perform in Trossingen, Germany, the home of Hohner's German factory, a day-long recording session at the historic SugarHill Recording Studios in Houston, and promotional support from Hohner, Inc., SugarHill, and Texas Folklife.

One of the prizes, of course, is performing at the Accordion Kings & Queens Festival in front of accordion legends, music industry professionals, and a large crowd of enthusiastic music lovers.

online translation!