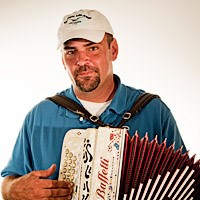 Slim's Y-Ki Ki
8410 Highway 182 (North Main St)
Opelousas, LA 70570

01 January 2011 HORACE TRAHAN - ACCORDIONIST/VOCALIST

Horace Trahan, the maker of the hit single, "That Butt Thing," is a world renowned Cajun and Zydeco artist, respected for his ability to pull the hell out of an accordion and belt out vocals that will give you chills.

Having over-stepped boundaries and bypassed the stereotypes of naysayers, this native of Ossun, Louisiana, has made a huge and highly anticipated comeback on the music scene!

At 15, Horace wanted to learn to play the accordion. His father brought him to Felix Richard, a strong accordionist and first cousin who lived in Cankton, LA. Horace was a natural and booked his first gig within six months of learning to play.

Horace was very comfortable in a musical setting, as he had purchased his first guitar at the age of 12 and had also begun playing the saxophone in the fifth grade. It was when he combined his angelic-pitched voice with the skills he honed on a Crown single row accordion, that the musical magic began. Horace was sixteen years old when he began singing Cajun music in French and in English.

Not long after making his mark on bass drum in the marching band at Carencro High School and graduating, Horace hit the road and began touring with D.L. Menard. The road schedules would take the talented 18-year old musician to New York, Boston, Chicago, Canada, France, California, and the summer Olympics in Atlanta.

Two years later, in 1996, Horace and D.L. Menard recorded a CD on Swallow Records. During this time, at the age of 20, Horace also released his first CD entitled, "Ossun Blues," for the same label.

Horace's music took root quickly, and he formed a band called, The Ossun Express. The band consisted of an accordion, fiddle, guitar, bass, drums, and sometimes a triangle. This version of The Ossun Express never recorded, but played many local venues and festivals, making a name for the group. In the year 2000, Horace revamped his band with all new members, and they were called The New Ossun Express.

It was at this time that Horace recorded his second album entitled, "Get On Board," on the Zydeco Hound label. In 2001 they followed up with his third and final album on the same label, entitled "Reach Out and Touch a Hand," which was later renamed by its new owner, Fred Charlie, as "That Butt Thing," for the title song.

Having thoroughly learned the business of owning the music that you write and create, Horace's fourth CD release, "Keep Walking," is being released under his own publishing company. Horace has a complete love for music and always has.

This explains his pure talent and ever versatile creativity. With musical influences ranging from Iry LeJeune, Aldus Roger, Lawrence Walker, Hank Williams, Hank Williams Jr., George Jones, to Wayne Toups, John Delafose, Boozoo Chavis, Beau Jacque, Clifton Chenier, Bob Marley, and Bob Dylan, there is no stopping Horace Trahan from expressing himself in any facet of music!

The group consists of: Daniel Sanda (guitar), Paul Slim Washington (guitar), James Prejean (bass), Doug Garb (sax, flute, harmonica), Rodney Bernard (Scrabboard).

For further information email: info@horacetrahan.com

Online translation !