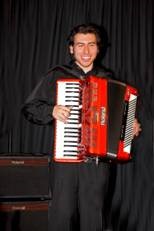 Saturday, 13 February, Deventer Schouwburg, Leeuwenkuil, 10.00h. - 17.00h.:
Sparkling Deventer
Many different activities are on all places of these two nearby buildings. Such as:
Music market with a lot of stuff all about our favorite bellow instruments, art, notes, cd's and of course the instruments themselves; workshops for accordion, bluesharp, harmonica, Steierische Harmonika and bandonion in different styles; a reading from Wu Wei about the sheng, the 2.500 musical instrument from China; master classes by Pascal Contet, classical accordionist from France and the Motion Trio, three accordionists from Poland who are specialists in playing together.
An Open Podium where a variousity of artists and groups have the possibility to play anything they like.

Riccardo Tesi & Banditalia from Italy, this man is a master on his "Organetto Diatonico", together with his group they let the audience enjoy Italian music with a Mediterranean sauce.

Captain Gumbo from the Netherlands are taking care of a swing-party with Cajun and Zydeco music. Not only fun to hear, but also to look at.

Sunday, 14 February, Etty Hillesum Centrum, 11.30h.: Riccardo Tesi and Maurizio Geri are going to sing and play in a small, intimite atmosphere Italian traditional music from Toscane.

Sunday, 14 February, Deventer Schouwburg, 14.30h.: Temperamentvolle Piazzolla
Carel Kraayenhof, bandonion and Orkest van het Oosten, the symphony-orchestra from the East of the Netherlands. The famous Carel Kraayenhof is playing music from his big maestro, Astor Piazzolla and other great composers of Argentina. He is a soloist with the Orchestra, but also he is performing a few works on his own. A fantastic last concert of Festival Het Accordeon 2010.

Sunday, 14 February, Deventer Schouwburg, 16.00h.: Bal Folk, Thé Dansant with Cecilia from Belgium
This very good folk group is going to help us dancing out of the festival. They've played everywhere and are specialised in making folk-dance music. For everyone who wants to talk, dance, drink, remember, say goodbye to dear friends and whatever is in ones mind. Welcome to the last party of this festival!

Information:Stichting Het Accordeon, Postbus 237 - 7400 AE Deventer
telefoon: 06 40304317 - website: www.hetaccordeon.nl - e-mail: info@hetaccordeon.nl
Online translation !