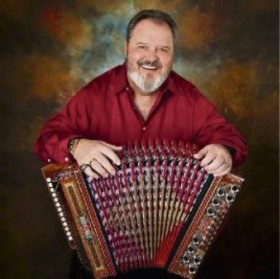 Versatile polka musician toured in U.S., Europe
by Jeff Himler, Trib Live, Friday, July 29, 2016,

From his native Yukon to California and Europe, Bud Hyrczyk's music got people dancing,

A skilled player of keyboard instruments and the button box accordion from an early age, he was known for Slovenian-style polka music while leading the Yukon Button Box Club and in his recent solo recordings.

Known as "Bud" since childhood, Lotsie J. Hyrczyk Jr., 67, of Russell Springs, Ky., died Friday, July 22, 2016, in Baptist Health Louisville after experiencing organ failure.

According to younger brother, Mike, of Yukon in South Huntingdon, Mr. Hyrczyk picked up a love of Slovenian music from their grandparents and was playing professionally with Greensburg-area musicians in his mid-teens.

As a young adult, Mr. Hyrczyk started a family band, Bud Hyrczyk and the Sounds of Time, that included his brother on strings.

"Mostly we were booked for weddings because of the ethnicity of the music," Mike Hyrczyk said. "My brother was always very sociable onstage or offstage. He kept the good times going. He knew how to reach a crowd."

In the early 1980s, Mr. Hyrczyk founded and directed the Yukon Button Box Club, whose eight members included his uncle and fellow accordionist Don Leskosek of West Newton. According to Leskosek, "The rest of us just played by ear, but Bud played by the notes. We were one of the best bands around because we had a good director."

Tours took the band to Michigan and California, and even to Slovenia and Switzerland. Leskosek recalled one of their most popular numbers was "Toot, Toot, Tootsie," an old Al Jolson song that his nephew recast as a polka.

Also an able singer, Mr. Hyrczyk went on to write, arrange and record original music. His latest album, "Livin' The Dream," won a top award last year on a polka webcasting site.

Mr. Hyrczyk's music is featured on the soundtracks of two recently produced independent films, "1/1" and "Dig Two Graves," that were written or co-written by son Jeremy Phillips of Los Angeles.

Retired as a financial planner for Prudential Insurance Company of America, Mr. Hyrczyk was a member of the National Cleveland-Style Polka Hall of Fame. A Corvette enthusiast, he loved to cook Italian dishes.

In addition to his brother, Mike, survivors include his wife, Sandra; four children, Amy Busch and her husband, Regis, of Jeannette; Jeremy Phillips and wife, Jen, of Los Angeles; Jennifer Bloom and husband, Corby, of Texas; and Sabrina Barnett and husband, Mark, of Russell Springs; and six grandchildren.

A memorial service will be held at 10:30 a.m. Saturday in Harrold Zion Lutheran Church, Greensburg. Interment will be private.