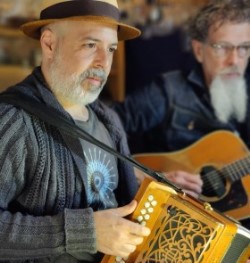 Video 1: "Somewhere (There's a Place for Us)"
Composed by Leonard Bernstein with lyrics by Stephen Sondheim from the 1957 Broadway musical West Side Story. Performed on Pedal Steel, Accordion, and Guitar.

Accordionist Rob Curto shares, "More chill Sunday afternoon vibes with this beautiful composition by Leonard Bernstein, my friends Isaac Stanford on pedal steel and Brennen Ernst on guitar, me on accordion and Kiki on guest vocals. She consistently entered at the last A section on every take we did. Dogs get it."

Rob Curto is an accordionist, composer, and pianist based in Philadelphia and New York City. Excerpts from his website: Curto has a prolific career touring and composing, gaining notoriety for his mastery of the piano accordion, exciting harmonic blends, and general musicianship across genres and musical boundaries.

He is a founding member of the "Brazilian Bluegrass" band Matuto,which gained a following across the US and Canada, was selected to showcase at WOMEX, and toured extensively across Africa, Asia, Europe, and other areas, chosen to represent the US State Department overseas. He has released several CDs and EPs as a band leader and is a prolific composer/arranger, including his latest musical project, the unabashedly accordion-centric American roots band, Fish Harmonics, featuring smokin' accordion along with bass fiddle, groove-oriented drumming, and old-timey strings. Fish Harmonics' debut EP, ONE, is available streaming in all the places.

Since relocating to Philadelphia, Curto has developed an interest in Irish button box, adding B/C button accordion to his repertoire. He studies with NEA National Heritage Fellow and multi-All Ireland Champion, Billy McComisky, and occasionally with John Whelan and PJ Hernon. Curto is profoundly interested in the (relatively) recent history of accordion in traditional Irish music, a passion that has brought him zig-zagging around West Kerry and Co. Sligo, joining sessions and absorbing tradition and tunes.

Curto has many compositional credits, including his own albums as well as TV (Bear in the Big Blue House), documentaries (The Same Heart), independent compositions, and other commissions for theater, film, and commercials.

Rob is available for virtual lessons on reading music, improvisation, composition, development of repertoire and more. Rob has over 20 years of experience as an educator. During his rich career as a world-class performer, Rob has also shared his musical knowledge through private lessons in Accordion and Piano, and workshops for students on both amateur and professional levels. Through teaching, Rob strives to give students not only first-hand information and insight, but the tools to then go and learn on their own. Skills such as how to organize one's practicing, how to work on technique, how to play by ear and master new repertoire are emphasized.